Artist Testimonials
Kimbra
It was a beautiful and uniting experience being a part of The Hum. I gathered 5 of my favorite women together (Olga Bell, Kiran Gandhi, Anna Wise, Tif Lamson, Alissia Benveniste) to make purely improvised music and I was blown away by the synchronicity and depth of experimentation we were able to explore thanks to the opportunity Rachael and the openness of the audience that gathered. There was a different kind of energy working with a completely female band - something i'd never done before and the spaces we were able to enter felt so important and powerful. Friendships for life were also created that night! Very grateful to have had that experience.
Xenia Rubinos
The series was a great opportunity to connect with an extremely talented artist I hadn't met or collaborated with before- Indigo Street. We work in different musical realms so it was a rare chance to see how our sensibilities intersect, to learn and share with eachother. The performance felt electric and really powerful in such an intimate space. I think Rachael has built a precedence for the audience to be very attentive and sensitive to the performances and that really encourages a space in which artists can feel empowered to try something new and share works in progress.
Kiran Gandhi (Madame Gandhi)
The Hum will always be my favorite gig to play. It is the space where I can be my most creative, experimental self, vibing off the musicians around me and knowing that I am playing for a safe and receptive audience, who wants nothing more than to see the musicians in the center go to places they haven't gone before. I remember my experience being transcendental.
Kalmia Traver (Rubblebucket)
One of the reasons I came from Vermont to New York City was to have a chance to play with more musicians who were women, but even after 6 years here I've found that we're still relatively few and far between. I sense that The Hum will be known by future generations as be a key beat in the continued emergence of a supportive network of female-identified musicians across the world who love and are inspired by eachother.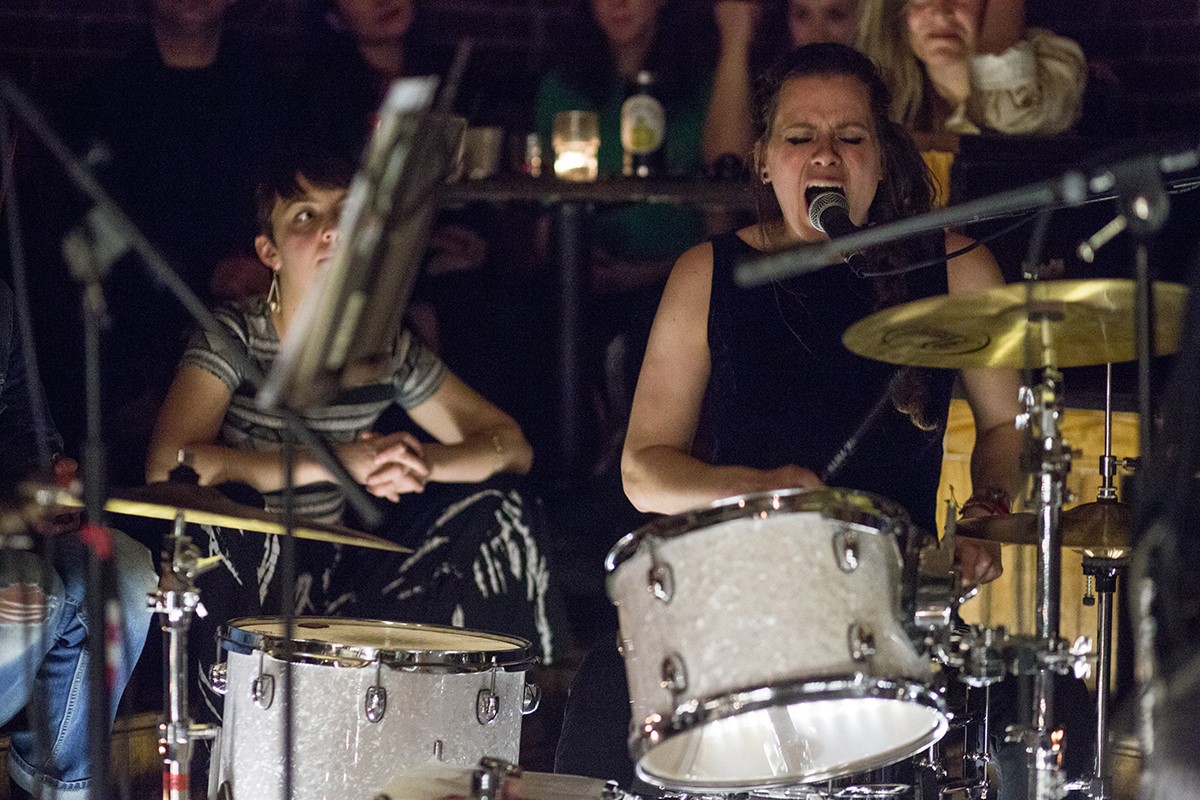 Dani Markham (Tune Yards)
I had just finished being on the road with Tune Yards for two years and The Hum was my first musical experience back in Brooklyn. I needed to re-connect with Brooklyn and the music scene, and The Hum created this platform and opportunity for me. As a matter of fact, I've continued to collaborate with the women that I met that very night. Being on stage with women is a very empowering feeling, and being in a room full of people supporting women is a very powerful thing.